Mission "Standing Desk" Accomplished!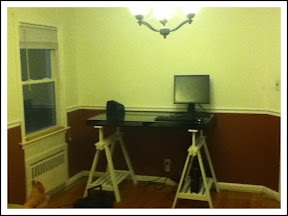 I put together my new standing desk today and then we rearranged a bunch of furniture to get the bones of my office/ studio in place!
I'm in what would normally be a formal dining room, so there's a neat chandelier in the middle, too. Potential galore!
The new desk is a Vika Gruvan top (glass over a black shadowbox base, with room to display fun stuff underneath the glass top) on top of Vika Artur trestle legs. (You can find them at ikea.com if you're interested.)
The only Artur legs they had left were white. I'm thinking I'll paint or stencil them with some sort of neat design, eventually.
These trestle legs are height adjustable -- I have them on the second tallest setting, which is 38" with the added table height. Tall enough for me to stand and type (I'm 5'4"). If need be, I can pull up a tall chair and sit a spell, too, but I definitely prefer to stand while I work.
It's still
really
extremely messy, with at least four boxes to unpack, but I'm that much closer to being done.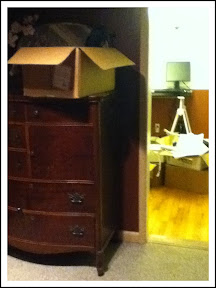 And theres only one word for that: yay!!!!!!!!!!
Have a great weekend!