Transformation!
We spent today transforming this: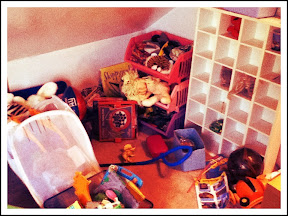 to this: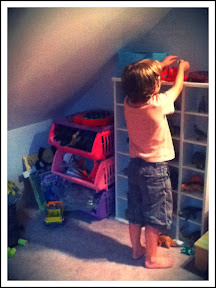 And this:
to this (managing to cull a box and a half of old toys/ books for giveaway):
This landing outside the upstairs bedrooms went from box and random stuff catchall:
to a more pared down spillover room, which is part closet and part play room: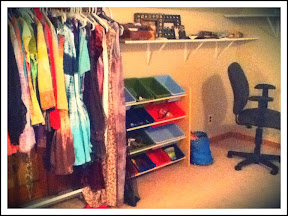 There's only one closet upstairs, between the two bedrooms, and our IKEA wardrobe fell apart during the move -- literally split in two -- so I bought a simple rack for my clothes and M is using the built in for his hanging up clothes:
I hung a peace and love curtain over it cause yeah, I'm still 17 in my design tastes. And Remy likes it (can you see his toes?):
Our bedroom (the adult bedroom!) is filled to the gills with the clothes that need folding. You get no photos of that, I'm afraid. Here's one more of the boy's room during the transformation:
I'm really gonna need to buy a dresser, I was planning on using half that IKEA wardrobe!
But the rest of the upstairs is looking much better, so I'm happy.
(And feeling a lot better, thanks for thinking of me!)